For 14 days, I will be posting for Thanksgiving. I plan to include fun stuff, educational stuff, books, movies, YouTube videos, recipes, and some thoughts & ideas for themes & traditions. At some point in these posts, I will also include our plans for Thanksgiving. I hope you enjoy.
Fun & Educational:
Thanksgiving by the Numbers
36 Little Known Facts About Thanksgiving
Books: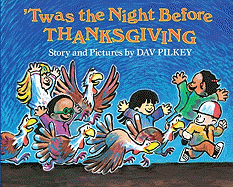 'Twas the Night Before Thanksgiving
is a fun little book about a field trip to a turkey farm the day before Thanksgiving. The kids play with the turkeys, and are horrified when they are informed that those turkeys will be dinner the next evening. So, they smuggle the turkeys onto the bus & take them home. Both my kids were giggling while we read this one, despite being 9 & 15 years old.
This book is a great opportunity to discuss with young children what a parody is. You could also add some fun activities after reading it, such as:
Discussions of animals raised for food
Make posters trying to convince people to eat something other than turkey for Thanksgiving
Have your kids decide what the kids' family ate instead of turkey that year
A discussion about the consequences that would have arisen from the kids stealing the turkeys
Have them write a new ending to the story
Amelia Bedelia has always been popular in our house. So, we had to read
Amelia Bedelia Talks Turkey
. This time, Amelia Bedelia is helping out at the school because all of the 3rd grade teachers are out sick, and they need someone to direct the 3rd grade Thanksgiving pageant. Though Amelia Bedelia, in her typical style, misunderstands several things going on, she manages to direct an entertaining pageant.
Amelia Bedelia books are, of course, great for teaching homophones, idioms, & puns. Fun activities could include:
Making a homophone book that lists all the homophones in Amelia Bedelia Talks Turkey draw pictures (or cut & paste from various sources) for each
Make a book of idioms found in Amelia Bedelia Talks Turkey with pictures or explanations for what Amelia Bedelia thought & what the idiom really means
An acrostic poem (THANKFUL)
Food:
Today, I'll share recipes I found for stuffing (or dressing, if you prefer). I have not followed these specific recipes, but they looked interesting (this goes for all the recipes I share in these Thanksgiving posts, unless stated otherwise).
Movie:
Ok, I found that there is a lack of Thanksgiving themed movies. I'll be listing one per day.
Scent of a Woman
- If you don't automatically associate this movie with Thanksgiving, don't feel bad. Neither do I. However, it does take place over Thanksgiving break. It is not a movie I would watch with the kids, but for an adult only evening after the kids have gone to bed.
Video:
Today's video from YouTube is some DIY Decor & Entertaining Tips: