Online Game: Turkey Fling
Thanksgiving Math Worksheets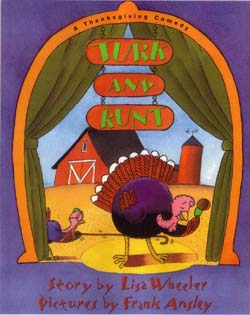 Turk and Runt: A Thanksgiving Comedy
Turk is the biggest & strongest turkey on the farm. When people are planning their Thanksgiving dinners, they come to the farm to pick out a turkey. Turk shows off his moves trying to be picked, but his little brother, Runt, always scares the people away. Runt knows the people want a turkey to eat, but nobody wants to listen to him. When someone comes who wants a small turkey, and picks Runt, will his family listen to him & help, or will he become dinner?
Possible Activities:
A Venn Diagram comparing Turk & Runt
Make paper bag puppets or costumes & perform the book as either a play or puppet show
The Perfect Thanksgiving
Description from the book jacket:
Enter two families who couldn't be more opposite. Family one seems just perfect-with a plump golden turkey, gorgeous whipped cream swirls atop their pie, and lace napkins on the table.
Family two, on the other hand, seems far from it! The turkey burns, the Jell-O wiggles and jiggles right to the floor, and Dad's shirt serves as napkin. What could these two very different families possibly have in common?
Full of whimsy, good spirit, and certainly familial love, this laugh-aloud picture book is sure to add spice to any Thanksgiving feast.
Possible Activities:
A Venn Diagram comparing the two families
Discuss your family's Thanksgiving traditions & which family in the book yours most resembles
Have your child come up with a story about the two families in book having Thanksgiving together
Duck for Turkey
Tuyet is looking forward to Thanksgiving & days off school. She is a bit worried, though, because her family is having duck on Turkey Day. Despite her concerns, she & the rest of her family, enjoy their Thanksgiving dinner. When she gets back to school on Monday, she is worried about telling others that her family had duck not turkey. She is pleasantly surprised to find out that not everyone has turkey for Thanksgiving. Some of her classmates had lamb, tofu, enchiladas, and more.
Possible Activities:
Discuss/research different Thanksgiving traditions
Acrostic Poem (FEAST, FAMILY, or THANKFUL)
Have your child plan a Thanksgiving menu with their favorite foods, younger kids might enjoy cutting out pictures of their favorite foods & making a collage or poster
Dutch
I only vaguely remember watching this movie once, many years ago. So, I can't really give an opinion on it. Here is the description from IMDB:
Volunteering to drive his girl friend's son home for Thanksgiving to Chicago from his boarding school in Georgia, little does Dutch expect the picaresque adventures in store for him. When a blunt, down-to-earth construction worker takes to the road with an insufferable twelve-year-old snob (desperately insecure under the surface) who doesn't approve of him in the least, quite a bit must happen before they can reach their destination as friends-- or, for that matter, get home at all.
For today's recipes, cranberry sauce:
Fresh Cranberry Relish
Cran-Citrus Chutney
Cranberry Pomegranate Terrine
Cinnamon Apple Cranberry Sauce
Cranberry-Orange Sauce